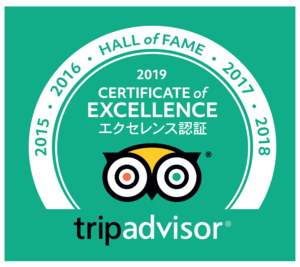 Important notice for bus passenger
- NAME CHANGE of our closest bus stop from July 2018
On 1st July 2018, the name of closest bus stop from our guesthouse has been changed to
"DAINICHI-GOE NOBORI-GUCHI".
For more detail, CLICK HERE.


Please check the newest information before on board.
For dear all guests
Our check-in time is from 3 p.m.
Before 3 p.m., we are out for buying foods and doing errands, and the entrance door is closed.
If you would like to drop your luggage off before your check-in,
you can use FREE LUGAGGE STORAGE service at "TORII shop", near the KUMANO HONGU TAISHA grand shrine.
(1min walk from "HONGU TAISHA MAE" bus stop, 10mins walk from Blue Sky Guesthouse)
Reservation is required. Please send your order when you will make reservation.
For detail, please see this page. Thank you for your understanding!
Updated informations!
2019.4.1 We revised our room fare. New room fare We really appreciate your understanding...
2018.8.25 We really appreciate your concern about typhoon "Cimaron". We don't have any damage. We are opened as usual. Thank you!
2018.7.1 [Bus stop name change]The closest bus stop name has been changed to "Dainichigoe Nobori-guchi". For detail please click HERE
2018.5.25 [Privacy policy] Our privacy policy is downloadable. Please click HERE
2018.3.14 [Bus schedule change, TANABE-HONGU on 01 April 2018] Ryujin bus co., will change their schedule between Tanabe and Hongu on 01APR2018. See new timetable
And they will start "KOYASAN & KUMANO access bus", the convenient service links Koyasan and Hongu with only 1 or 2 transfers. For more detail, please see this page.
2018.3.1 The period of "SENNIN-BURO ", the huge open-air bath in KAWAYU ONSEN is over. See you next December!
2017.6.25 [Road REOPENED from/to SHINGU] Route168 between SHINGU and HONGU is REOPENED.
2017.1.26 We will change the regulation about cancellation and child fare from 1st February 2017. For detail, please check this page.
And we will keep your luggage at "TORII shop", near the KUMANO HONGU TAISHA grand shrine, before 3pm, check-in time. For checking how to drop your luggage at "TORII shop", please see this page.
We appreciate your understanding and co-operation!!
2016.4.15 [Regarding the earthquake in Kumamoto, Kyushu island, west Japan] We express the deepest condolences for the victims by the earthquake occured on 14th and 16th April 2016.
Our guesthouse is at 500km far from the epicenter and have no damage. We are opened as usual. But if you will come from Kyushu island, and it will be difficult to get to our guesthouse due to the disruption of transportation, we can talk about your schedule change or cancellation. Please contact us by e-mail if you can.
2016.3.20 The bus timetables around KUMANO HONGU will be revised on 26th March, 2016. We updated the new timetable, please check here.
2016.1.22 The currency exchange machine is in operation in town (at KIYO BANK, 7mins.walk from our guesthouse) ! USD,EUR,KRW,RMB,NTD,HKD,THB and AUD are accepted. For detail, click here.
2015.9.18 The NARA KOTSU BUS between Gojo and Hongu, which have been suspended due to typhoon in mid July 2015, offers full operation from 18th September 2015.
2015.8.1 The KUMANO KODO KOGUMODORIGOE section (UKEGAWA-KOGUCHI) was reopened.
2014.10.11 The construction work is completed. We deeply appreciate our guests understanding and co-operation!!
2014.2.15 We are re-opened and construction works was finished!! Sorry again for inconveniences during our closure... And we are really looking forward to seeing our guests!!
2012.5.7 We are chosen as one hotel of "BEST PLACES TO STAY" of "Lonely Planet JAPAN"! Thanks a lot!
2012.2.11 We re-opened Blue Sky Guesthouse on 11st Feb.2012! We are looking forward to your visit!
2011.9.4 Due to the effects of Typhoon #12"Talas" and #15"Roke",Blue Sky Guesthouse is temporarily closed.
Thank you to those that have contacted us regarding our safety.The Blue Sky Guesthouse staff are all safe, although the guesthouse itself has received some flooding damage and it will take some time to repair.
Unfortunately, we suppose Blue Sky Guesthouse is closed during 2011 for repairing.We will try to re-open in early 2012!
We hope to see you here soon again in the near future!
2011.3.12 We express deeply condolences to victims of earthquake on Tohoku area.There is no damage on Kumano area and Blue Sky Guesthouse.
2010.12.21 The page about "how to get to us" is opened.
2010.12.14 English portal page is renewed.
2010.10.15 Downloadable Maps, Bus Timetables, Broucher are updated!
2009.7.17 Blue Sky Guesthouse is opened! All rooms have private bath and toilet. I'm looking forward to booking, from here!!
2009.4.18 English pages are opened!
"Blue Sky Guesthouse, KUMANO HONGU"
since 2008